If you've been putting off creating a social media content strategy, opting instead for the daily mad dash to find something interested to say on five different platforms, or maybe you're not getting as much from your social media content as you think you could be, this is the article for you. An effective social media content strategy goes a long way toward building a successful online presence that will drive your followers to convert. Here, we'll walk you through the seven steps you can use to create an effective social media content strategy you can be proud of. 
---
A Powerful Social Media Content Strategy in 7 Steps:
---
What Is a Social Media Content Strategy (and Why Does It Matter)?
A social media content strategy is your plan of attack for social media. It covers everything from what you post and when to analyzing and tweaking your content to improve performance. The point of creating and using a strategy is so you can understand what you want to get from your social presence, create the content that will get you there, and make sure that you're hitting your goals.
---
How to Build a Social Media Content Strategy
If you want to get a return from your social media, you need to create and implement a social media marketing strategy. And, while there's a lot to consider when it comes to social media marketing, building the best strategy doesn't have to be difficult. Plus, once you've built your strategy and are ready to implement it, you'll be able to stay on top of social media trends while minimizing the effort you're putting into it each day. Here's how to build an effective social media content strategy in seven steps.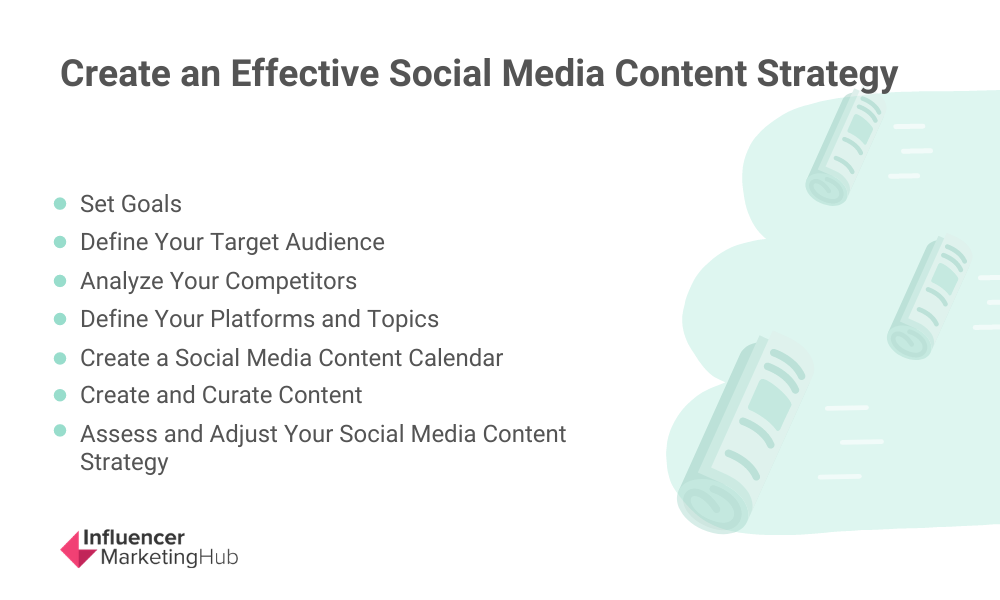 ---
Set Goals for Your Content Strategy
Setting goals is vital to success in just about everything and social media is no exception. What do you want your social media to do for you? You can choose as many goals as you want, but we recommend starting out with just a few goals (3–5, tops) that are the most important to you and will be the biggest needle-movers for your brand. Some common social media goals are:
Increasing brand awareness

Managing your brand reputation

Driving traffic to your website

Generating new leads

Understanding your customers better

Increasing revenue through signups and sales

Growing brand awareness

Building a community

Providing effective customer support

Increasing press mentions
These aren't the only goals you can set regarding your social media presence. Each brand is unique and will have different things they're hoping to achieve.
---
Define Your Target Audience
The next step in creating a strong social media content strategy is to define your target audience. This doesn't mean making a bunch of assumptions about who you think is your target audience. Instead, leverage the wealth of data available to you to learn more about who your target audience really is. We find it incredibly helpful to create buyer personas for each segment of your target audience. This will help you better understand each segment so you can create the kind of content they'll want to engage with and that will drive them to take action.
You'll want to consider demographic, geographic, psychographic, and behavioral data like age, location, job title, industry, interests, fears, motivations, pain points, and more. This information is easy to get access to with social media analytics tools that are available. Even without a tool that will consolidate this information across social media platforms, most social media platforms have their own audience insights tools.
---
Analyze Your Competitors
After you've learned about your target audience, you're ready to learn more about your competitors. Again, there are social listening tools and competitor analysis tools that can make this process a lot easier. You'll want to see what your competitors are doing on social media: how often they post, what they post, when they post, how often they engage with their followers, the hashtags they use, etc. Don't forget to look at what they aren't doing well, too, and use that information to learn from their misses. Here's an example of what reporting from a social listening tool might look like:
---
Define Your Platforms and Topics
When you're building a social media content strategy, you can't just share to all the social media platforms out there. First, there are too many of them. And second, your target audience isn't going to be on all of them. Since you should've done research about your target audience, you probably already know what social media platforms they're most likely to use. Those are the ones you want to target.
From there, it's just a matter of deciding what you're going to talk about. You'll want to promote your products and services, of course, but it's important to always entertain with your content or add value to your content instead of just selling all the time. To do that, you'll need to put thought into what your audience wants to know, what will help them and can still be related to your products, services, and brand. If you're creating social media content for a landscaping service, you might share information about different plants and flowers, how to create an outdoor entertainment space, or even branch off into less directly related content like "hosting the perfect outdoor dinner party," or something.
---
Create a Social Media Content Calendar
Once you've determined the platforms you're going to use, it's time to create a social media content calendar so you can ensure that you're posting often enough, on the right days, and at the right time to reach your target audience. As you build your content calendar, you'll start to notice gaps in your content and posting schedule or places where your content is too heavy on promotions. In other words, your social media content calendar is going to help you make sure that your content is engaging and interesting and peppered with just the right amount of salesy content.
We recommend following the "rule of thirds" when planning your social media content calendar. This means that one-third of your posts are going to promote your business, one-third is going to be more personal or candid stories to build your brand's personality, and the final one-third is going to be posts filled with ideas and tips from influencers and thought leaders in your industry.
---
Create and Curate Content
Now comes the really fun part: creating and curating content! Using your calendar and the "rule of thirds," you can start to put together content that will engage and inspire your target audience. If you're not sure what to create, don't worry. Here are some great ideas for content to include in your social media content strategy.
1. Influencer Content
Partner with an influencer whose audience overlaps with yours. There are several different types of influencers, each with its advantages and disadvantages, so be sure to choose an influencer that makes sense for your brand's goals. For smaller businesses and narrow niches, this might mean looking at micro-influencers since they tend to have higher engagement rates.
2. Stories
Instagram Stories are a great way to reach your followers and tap into the psychological principle of FOMO ("fear of missing out") since they'll want to watch your content before it disappears. Of course, that also means you have to create content that they won't want to miss. You can use Stories in combination with many of the other types of social media content we list here.
3. Audiograms
If you're a YouTuber or podcaster, you can share interesting snippets of your content on your social media platforms using audiograms. This creates a visually appealing version of your audio content. There are several apps you can use to create attractive and engaging audiograms like the aptly-named Audiogram, as well as Headliner, Wavve, and others.
4. TikToks & Reels
Like Instagram Stories, TikToks and Reels use short-form video content to entertain, educate, and engage your followers. And, they don't go away like Instagram Stories so they can be shared into perpetuity. If TikTok's popularity is any indication, short-form video content is only going to become more important over time.
5. Product Shots
Your promotional content has a lot to compete with on social media so it needs to be visually-appealing and matter to your followers. Images of your products have to be just as artistic, entertaining, and fun as the rest of the content you share. Really consider your brand's personality and branding to create product shots that work. Consider adding fun backdrops and animations to make your products pop.
6. Candid Content
Cause marketing is huge these days. That means that consumers want to know what brands stand for and are more interested in the people behind the brand than they've really ever been. Share personal content that shows you and your team being real and human. And don't forget to have fun.
7. User-Generated Content
User-generated content (UGC) is content created by consumers that you can then use as social proof to promote your brand. When you consider the value consumers place on trust in making their purchasing decisions, UGC is probably one of the more important types of content you can use. Seriously. Just look at the stats:
Millennials trust UGC 50% more than original content generated by the brands (SmartBlogs).

brand engagements rise by 28% when consumers are shown a mix of brand-driven marketing content and user-generated content (ComScore).

UGC increases conversions by 10% when included in an online purchase path (Salesforce).
8. Repurposed Content
After you've created and used content, it doesn't have to be dead to you. You can repurpose content to get more use from it. For example, some YouTube influencers are starting to share their content on IGTV to generate more interest and more views. You can also repurpose your TikTok content for Instagram Reels and vice versa. Just remember that social media platforms love native content so you'll want to remove watermarks from your TikTok videos before repurposing them for Instagram Reels.
9. Stock Photos
While creating your own content is never a bad idea, don't shy away from using stock photos when they work. They're a great way to create beautiful visuals without tons of effort or money. Whenever you want to highlight what you're saying (typing), a stock photo might be the perfect companion.
10. Behind-the-Scenes
We've briefly mentioned behind-the-scenes content but it deserves its own little section. Consumers want to know what kind of people they're supporting. With behind-the-scenes content, you can let consumers get to know your team and give them an exclusive look at how you do some of the things you do.
11. Games & Challenges
People want to be entertained on social media. While participating in games and challenges is a great first step for brands to take (if it makes sense with your branding, of course), it's even better for brands to create their own games and challenges. This type of content can go a long way toward getting you more user-generated content, expanding your reach, and increasing engagement.
---
Assess and Adjust Your Social Media Content Strategy
The last step in building a social media content strategy that actually works is all about tracking your results and using those results to fine-tune your strategy. There are several social media metrics that will help you understand how your content is performing:
Reach:

 The number of unique views your content received. This tells you how far your content makes it into user's feeds.

Engagement:

 The number of interactions with your content divided by impressions (number of views). This lets you know how willing your audience is to act on your content.

Clicks:

 A simple count of the number of clicks your content gets. This helps you understand what causes your followers to click.

Likes (organic and paid)

Sentiment:

 A measure of how users react to your content, how they feel about it.
While you can track vanity metrics, we recommend focusing on social media benchmarks that are actually going to help you understand what makes your followers take action instead of passively consuming (or ignoring) your content.
After you know how you're performing, start making changes to your content. The goal is to improve your performance so you'll want to go back to your metrics, again and again, to make comparisons and ensure that your changes are having a positive impact.
---
Use a Social Media Content Strategy to Deliver a Powerful Message
Over the past several years, social media has gone from a frivolous way to engage with your friends and family to a marketing powerhouse. When you use it correctly, it can make a huge difference in your business, both in how consumers see you and in how many sales you make. When you have a social media content strategy in place, you can take control of your brand's own narrative.