Have you ever wondered why branding agencies are becoming so popular? There are many reasons for this trend. Branding agencies can help new brands create a distinctive presence in an overcrowded marketplace such as ours. 
Agencies help existing brands reposition themselves in order to remain relevant when new trends and consumer preferences emerge. As agencies have liaisons with resource and service providers in their industry, clients can get services and expertise at a much lower cost. And here's the kicker: consistent branding can increase revenue by almost 23%. So, branding brings in business. Why would you not hire a branding agency?
---
32 of the Top Branding Agencies You Should Know in 2022:
---
Which are the Top Branding Agencies for 2022?
Now that you understand why branding agencies could be important for your business, you need to identify the agencies that can give you the most bang for your buck. 
How can you find the right agency? You'll need to pick an agency with the right combination of skills, tools, and technologies, plus a comfortable price tag. We've handpicked 32 of the best branding agencies that can build your personal brand effectively. We have evaluated them on several parameters such as services offered and price structure. 
1.Clay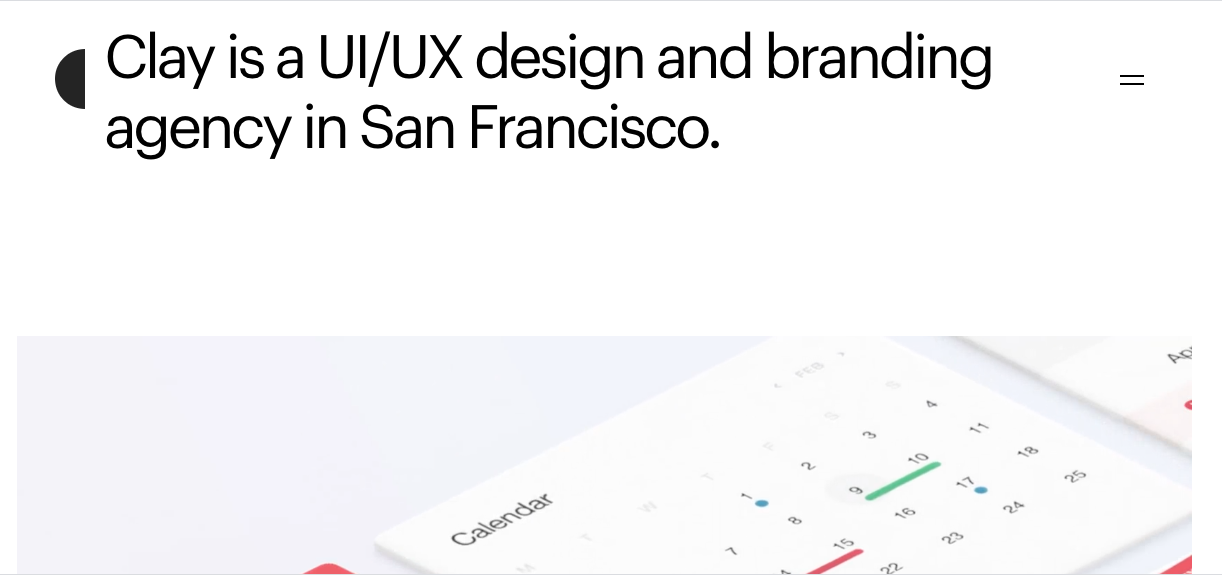 Clay's approach is simple – create digital products that people love to use. Based in San Francisco, Clay is a UX design and branding agency that offers strategy, design, and development on all platforms. Clay's team is singular and focused, prioritizing working closely with clients from beginning to end. Using an iterative and client-centered approach, design and branding are done methodically, step by step, and in constant consultation.
Clay frequently works with companies in the tech industry and specializes in tech-related design. When a mobile application is the centerpiece of the brand, smoothly and carefully incorporating the brand identity into the digital product's UX and UI is crucial for an effective final product – a skill Clay excels at. Clay incorporates cutting-edge behavior science into user experience design and creates human-centered enterprise software. They also offer web and mobile app development services, strategy services like UI/UX audits and product strategy, and prototyping and brand identity.
---
2.Neuron
Based in San Francisco, Neuron is a UX/UI design agency that helps businesses by creating first-class digital experiences. Unlike traditional agencies, their project teams are small and flexible which means better overall efficiency. In fact, when you work with Neuron their entire leadership team will be involved in the day-to-day activities relating to your project. 
From mobile apps to desktop apps to apps for wearable devices, their team can help you with product strategy and design. They take a human-centered design approach which means that whatever solution they come up with will improve the experience that customers have whenever they interact with your brand. To ensure that the digital experience that they design gets implemented correctly, they offer their clients a UX Architectural Guide. Think of it as a complete set of blueprints to help you understand the user experience they have in mind for your brand and its products. In addition to app development and product and UX/UI design, they can also help you with usability testing, lead generation, and competitive analysis. 
---
3.Humbleteam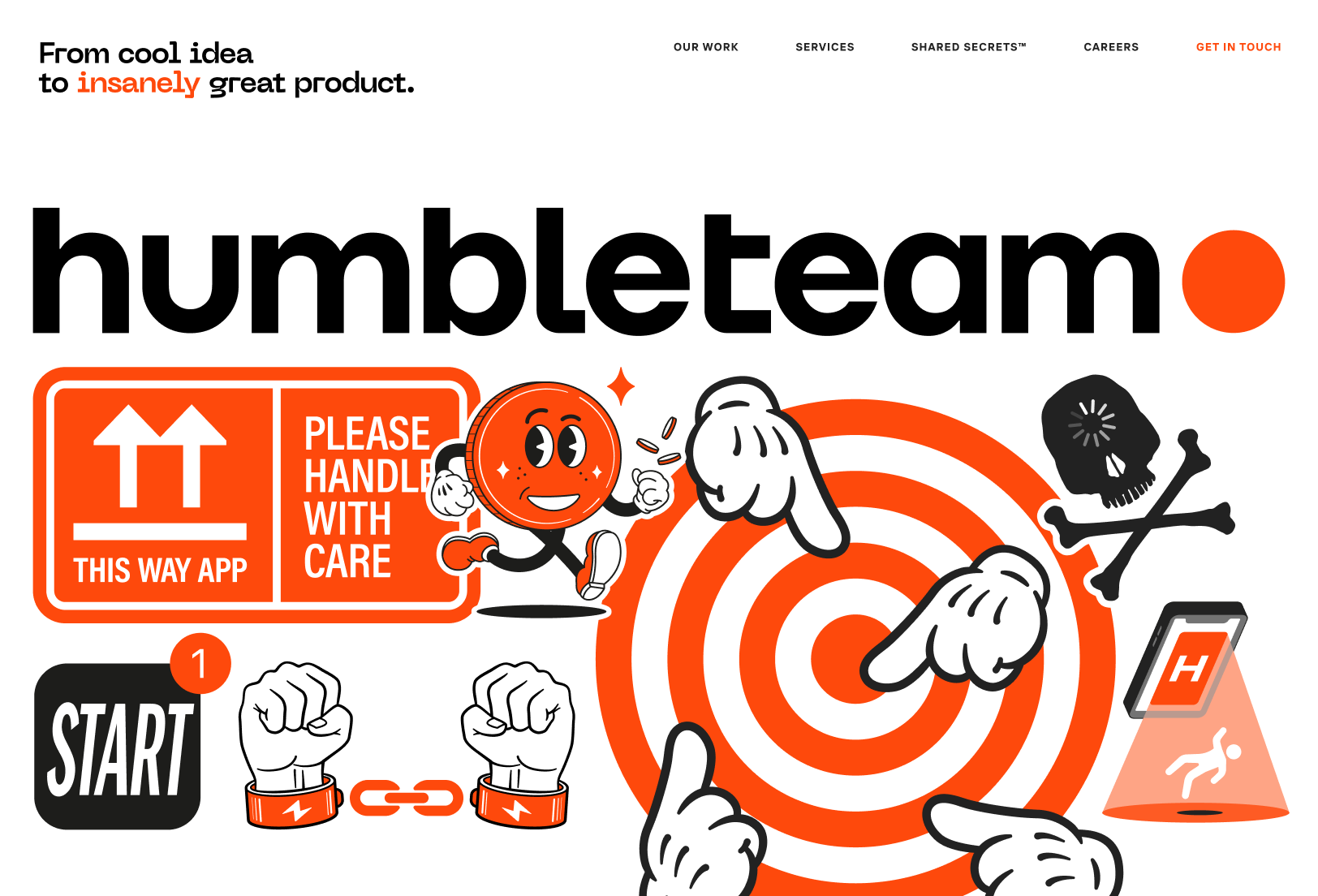 Whether you need help with a brand new brand strategy or it's time for rebranding, the team at Humbleteam can get your target audience to take notice of your digital product for all the right reasons. They've worked with clients in numerous industries and of all sizes, startups and Fortune 500 companies included. 
Not only can they help with the branding stage, but their dedicated team can also get involved much earlier and actually help with the product design phase too. They can create a flexible team of product designers that will work exclusively with your product helping your brand to come to life. Their philosophy – the product comes first. Simple, but powerful and effective. It's this approach that has helped them to boost an automotive startup's valuation to $800 million.
---
4.RUCKUS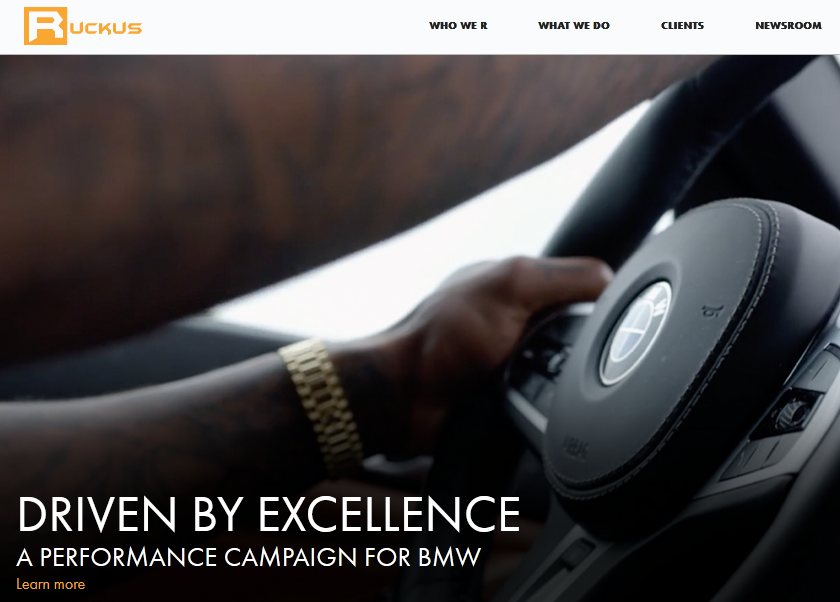 Whether you're a newbie influencer or an established one, RUCKUS advertising and marketing agency can help you create an indelible impression on your audiences and prospective clients. The full-service agency offers end-to-end branding solutions, from logo designing to experiential marketing. They inspect your personal story and decide the tone, theme, colours, and platforms that are your best fit. 
Each branding element is designed to bring your best side to the forefront. RUCKUS has expertise in creating a variety of engaging interfaces, such as mobile/web apps, ecommerce portals, and websites. All platforms are infused with UI/UX that is aligned with the latest marketing trends. Their experts provide sound marketing advice in the form of concrete lead generation strategies and full-scale campaigns for platforms of your choice. Metrics, SEO, and positioning – RUCKUS has all your bases covered. In other words, you get placement, execution, and delivery from a single tool.
---
5.Motto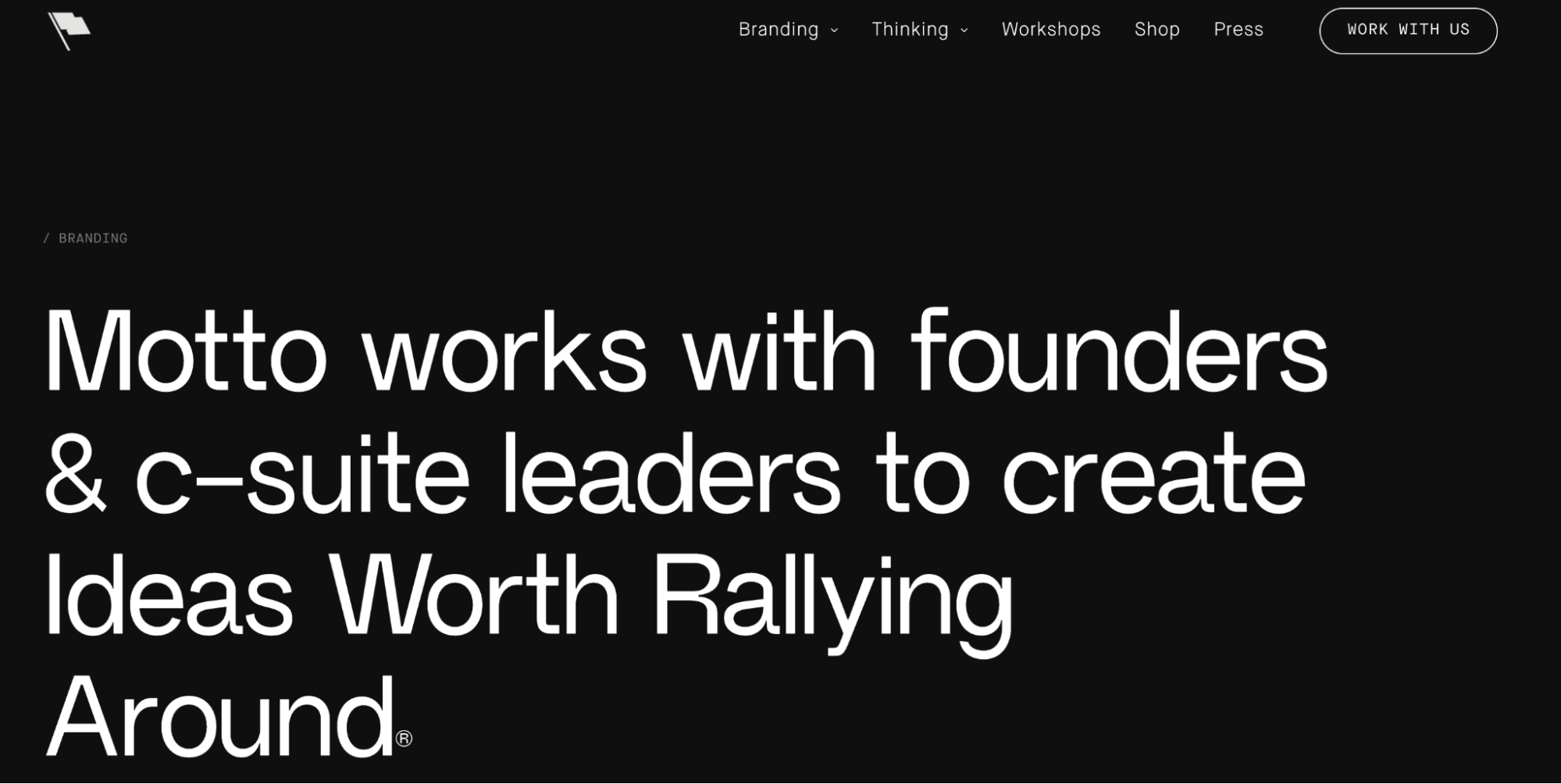 A women-owned independent leadership and branding consultancy, Motto has garnered industry accolades from Clutch and DesignRush. They have a full house of experts including those focused on unparalleled inside-out strategy, graphic design, UI/UX, digital marketing, and content production, all working together seamlessly to elevate your company's vision and purpose. Their brand strategy includes storytelling, naming, brand architecture, and messaging. Each tactic pivots around market research and insights. The brand elevation and design module covers internal leadership and vision alignment, internal culture positioning, verbal and visual identity, logo design, iconography, and brand guidelines.
If a strategic overhaul is not in your budget, they also have made mesmerising branded content available as a first step in understanding how your brand is showing up internally and externally. Their resource library contains comprehensive workbooks that entrepreneurs and influencers can buy to kickstart their branding journey.
---
6.Traina Design
A brand-first approach and 12+ years of experience have made Traina Design a frontrunner among branding agencies. They finetune your visual identity and messaging across all customer-facing touchpoints. Their suite of services includes branding, website designing, ecommerce solutions, graphic design, and digital marketing. They erect a framework for messaging and positioning across channels. They develop a visual identity that resonates with a brand's values and creates a lasting impression. For each client, Traina Design develops a unique stylistic guide that is refined and reviewed periodically. The client is given full access to their digital assets so that they can edit as needed.
Brand launch is a unique service offered by Traina Design. They help new brands take their first steps by creating an intertwined internal and external marketing strategy. The results? An authentic brand image that fosters loyalty and trust.
---
7.Tenet Partners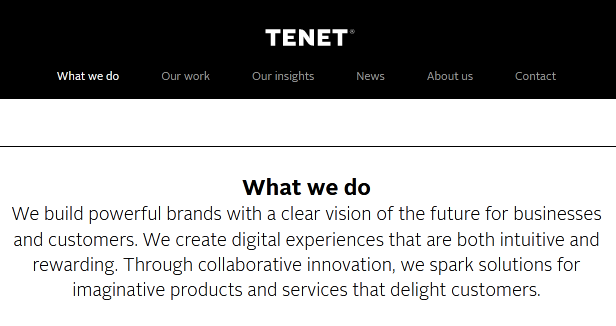 A compelling brand identity is a must for every progressive entrepreneur and brand. Tenet Partners uncovers your brand's natural appeal and USPs. 
They craft a vision, mission, and messaging that revolves around your brand personality. From brand architecture to naming, Tenet Partners handles all aspects with research-backed insights. They are skilled in all forms of branding, including consumer, corporate, and digital. Managing the complexities of a global brand can be challenging. Tenet Partners excels at it. Their brand management services include asset management, workflows, and managed services.
A standout feature of Tenet Partners is the innovation that they bring to the table. The UX design department conducts touchpoint audits and journey mapping. They deploy the Design Thinking approach and best practices to give your UI designs a universal appeal.
---
8.BLVR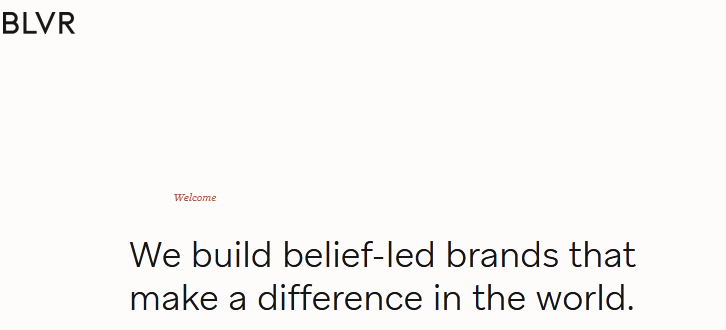 BLVR has a unique perspective on brand building. They believe successful brands are guided by a self-belief that they can make a difference in the world. BLVR aims to discover a brand's belief system and use it to create a truly unique success story.
Their expertise lies in brand development which encompasses market research, tagline development, and brand voice. Graphic design is another forte, which includes campaign design, sales collateral, and packaging. They also offer content development, marketing, and analytics. Influencers will find their lifecycle and product photography a valuable feature. They can execute full-blown branding-based campaigns and track KPIs.
---
9.Mucho

Mucho aids brands in branding and strategy building for brand promotion. The agency simplifies the complexities involved in developing a strong brand. Their no-nonsense branding strategies are governed by market research and consumer insights.
What sets them apart? Brand analysis, benchmarking, and visualisation are the backbone of Mucho's processes. They develop brand narratives that evoke emotions from consumers. They refine minute details such as taglines and logos so that messaging is in complete alignment. Their brand management services aid in brand activation and content development. Change management makes brand repositioning as easy as possible.
---
10.Deksia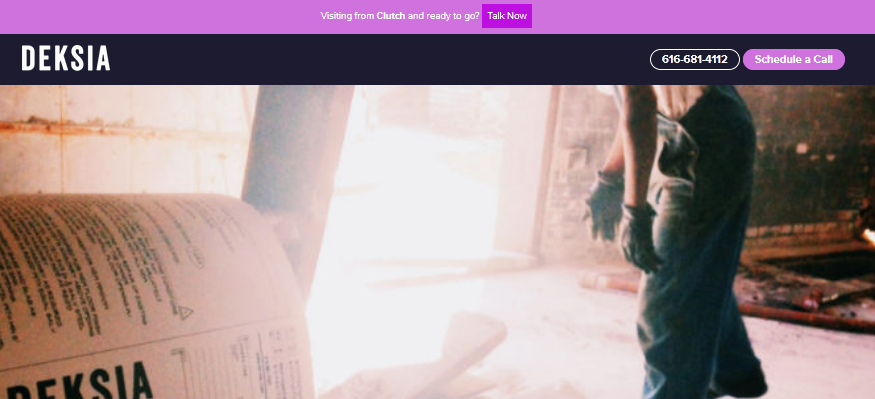 Deksia's core team is made up of entrepreneurs who understand the intricacies of business and brand building. They collaborate with clients to create long-term holistic branding solutions that really work. Deksia is the one-stop destination for all your branding needs. they execute brand audits to spot gaps in your messaging and branding strategy. They analyse your digital, verbal, and written content for creating a consistent brand voice. The agency develops reusable strategic plans with clearly-defined goals, budgets, and deliverables. They identify the brand voice that appeals to your target audience. All existing and new content is modulated to project your brand voice.
To top off everything, they monitor branding campaigns for metrics that matter. Undiluted reporting makes the entire process transparent.
---
11.Matchstic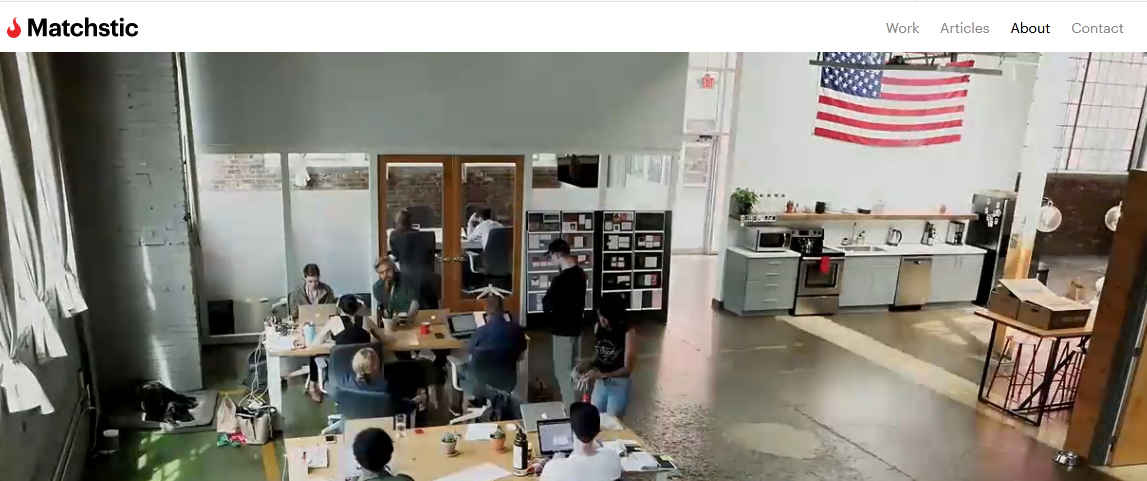 Matchstic has created a niche in the branding space. Unlike their peers, this agency doesn't provide ancillary services like brand promotion and social media marketing. The website categorically states that they aren't a full-service agency. Matchstic specialises in naming, logo creation, brand marks, and brand consulting. The core team is made up of branding experts, designers, and illustrators. Through the brand architecture module, they understand how best your brand values can be interwoven with your corporate structure.
Brand positioning unearths your brand's real personality. It also discovers new ways in which your branding can echo your intrinsic value system. To make sure your brand voice and messaging are in harmony, Matchstic develops a cohesive messaging protocol so that customers understand what your brand stands for.
---
12.Venthio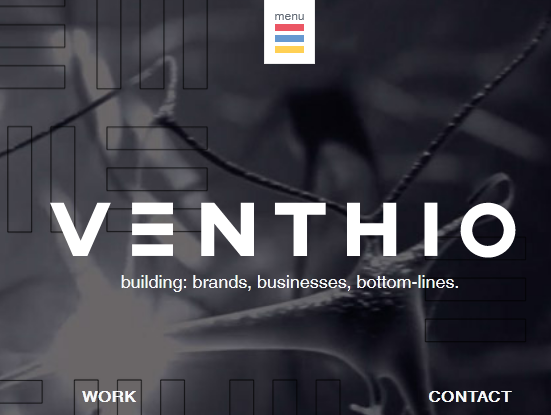 The last agency on our list is Venthio, which has many reputable brands under their belt. They have coined an acronym, I2D, for their branding methodology. 
I2D stands for insight, intelligence, and design, and it guides all of their branding processes. Venthio starts the brand-building journey with the external and internal discovery of your brand identity. Then, they adopt a strategic approach to build your brand from the ground up. They refine your business name, logo, theme, tagline, and messaging. All branding elements are aligned with your main product offerings and audience preferences. They also promote your brand through online and offline activities. You also get the web, video, and collateral packaging as add-ons. To top all of it, Venthio assists you in new venture activation and funding.
---
13.Catchword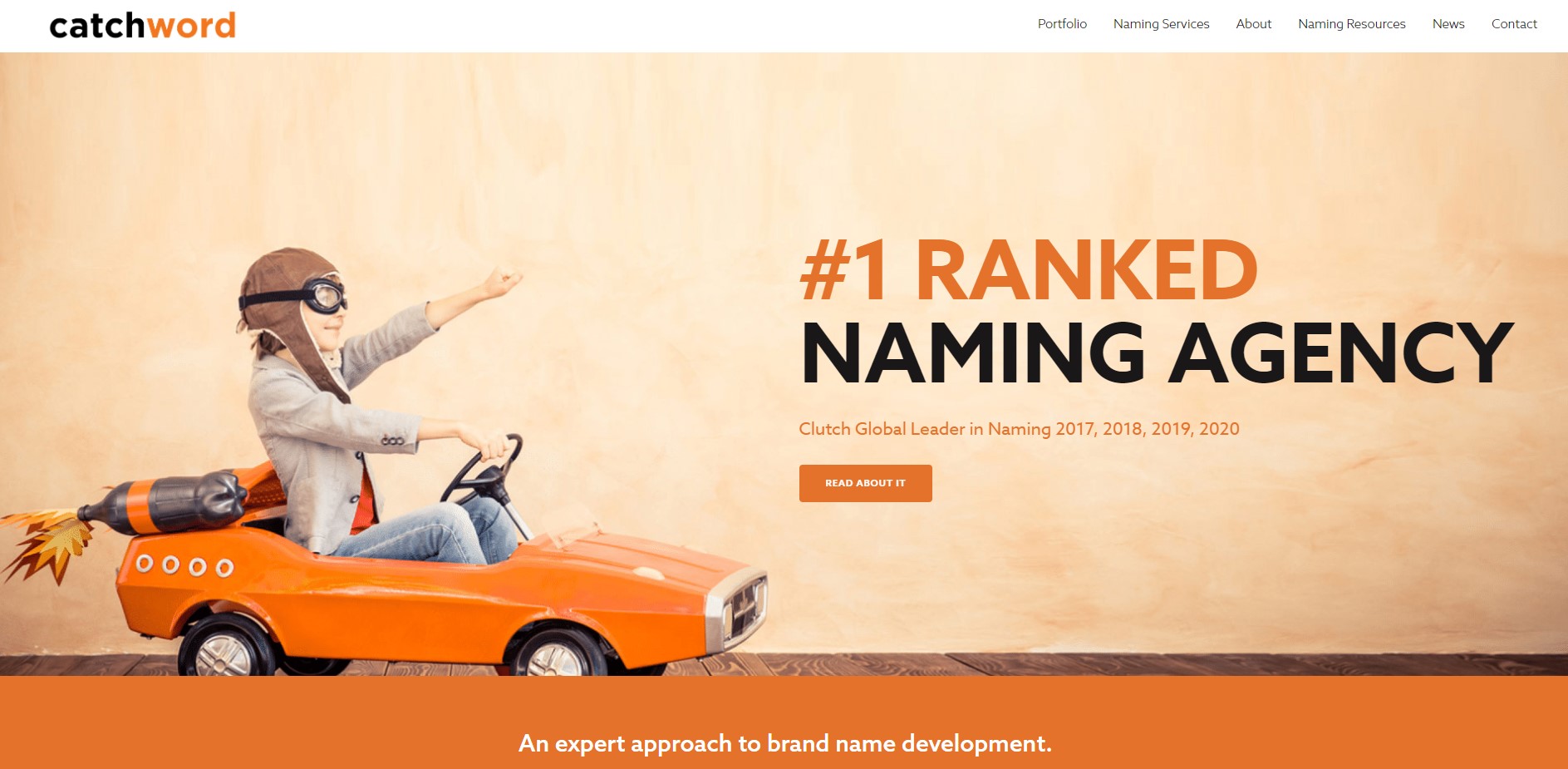 Catchword proudly promotes that it is the Clutch Global Leader in Naming 2017, 2018, 2019, and 2020. As this indicates, Catchword is one of the world's leading brand naming agencies, with offices in the San Francisco Bay Area and New York City. They have worked with over 500 companies across sectors while pioneering many naming best practices since 1998.
However, they offer more than just company, product, and service naming. Catchword can also assist with taglines and descriptions, copywriting for brands, strategic services, retainer & agency-of-record relationships, trademark screening, linguistics & research, and domain name services. 
Their clients include Asana, Fitbit (Zip, One, Flex, and Force), Volkswagen (Atlas), Vudi, Starbucks (Refreshers), Optane, Refresh (Relieva), The Home Depot, and Samuel Adams (Sam' 76). They even claim the naming of Adobe Photoshop Elements.
---
14.WANT Branding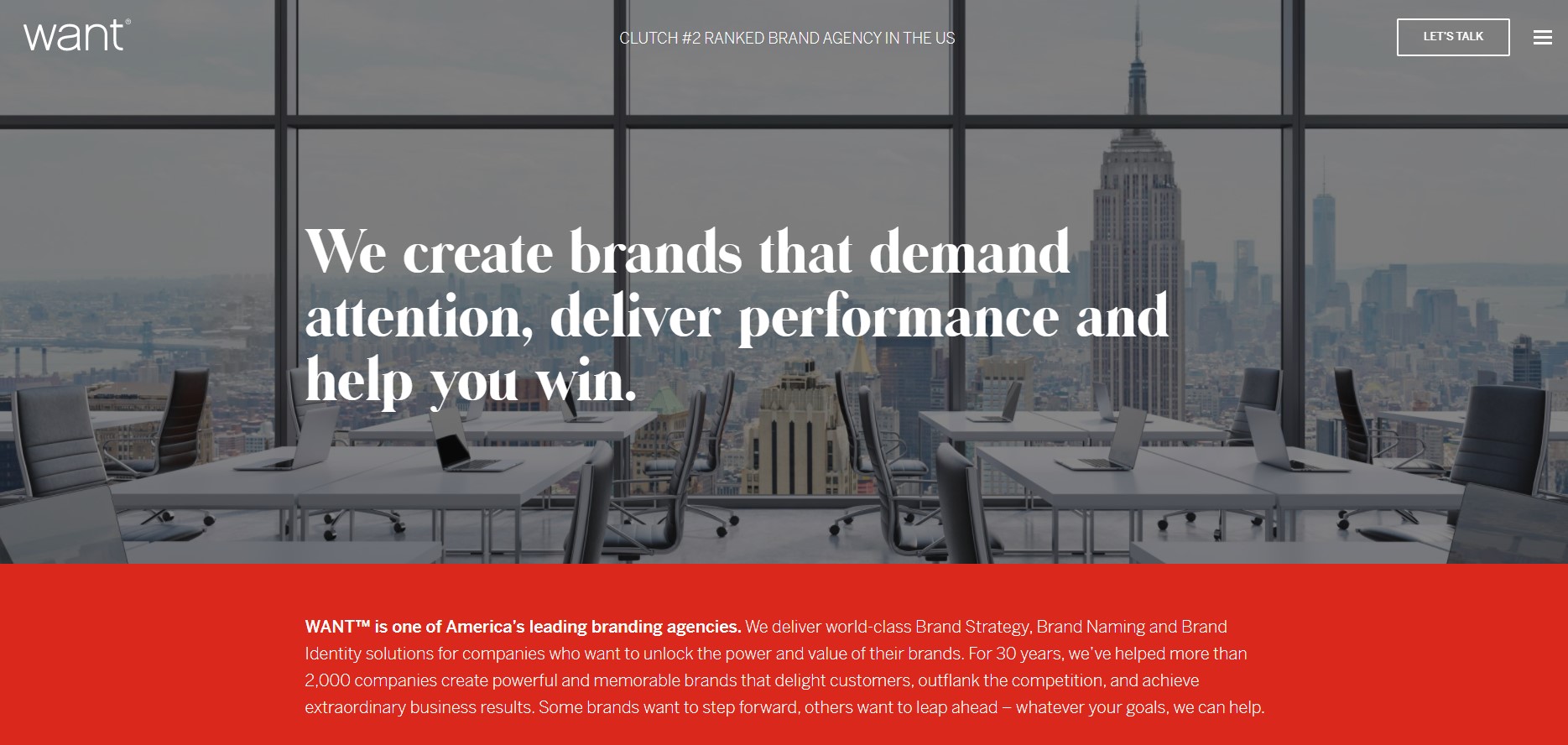 WANT is one of America's leading branding agencies. They deliver world-class brand strategy, brand naming, and brand identity solutions for companies who wish to unlock their brands' power and value. 
WANT creates brands for every kind of business – from the world's biggest brands to small and medium-sized companies. They even brand start-ups, non-profits, and trade groups and partner with VCs and private equity firms on their portfolio businesses. 
The agency operates out of New York, Miami, and Denver. They split their services into:
Brand strategy

Brand naming

Brand identity

Brand research
---
15.DeSantis Breindel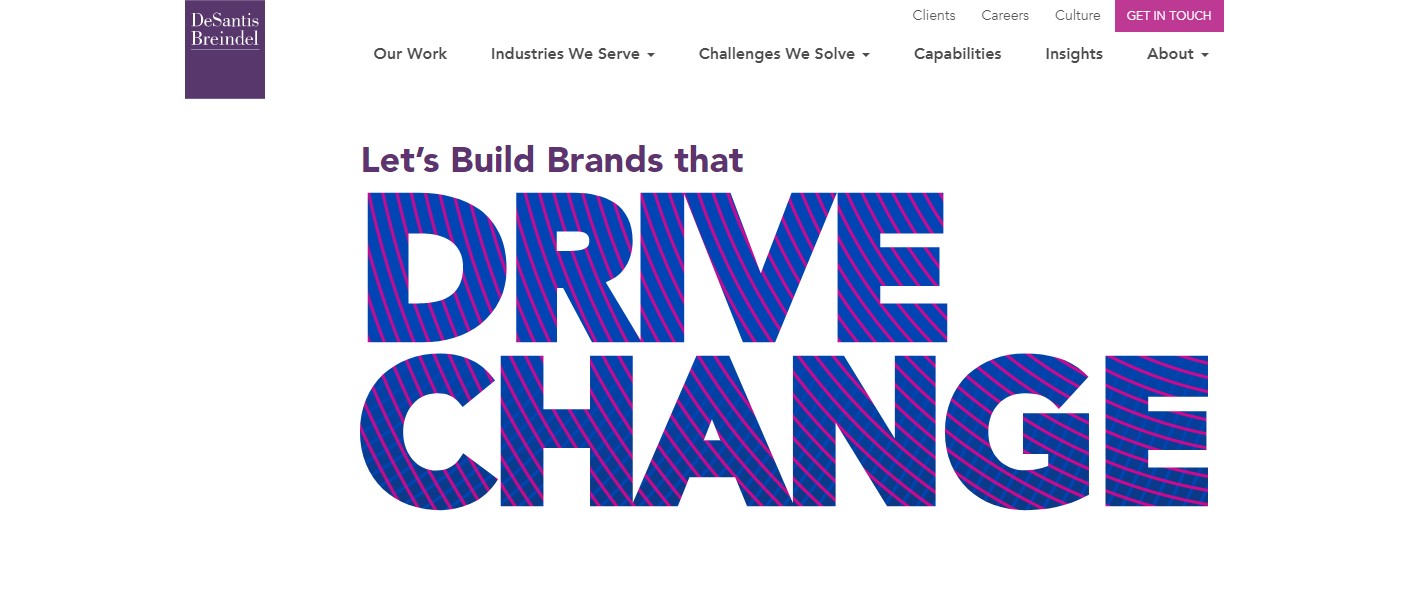 DeSantis Breindel claims to be the leading B2B branding agency in New York City. They offer services in the areas of:
Research and measurement

Brand strategy

Brand identity

Digital branding

Content marketing

Employee engagement

Customer experience design

Sales empowerment

Film production
They are strategists, writers, designers, marketers, filmmakers, programmers, and experience makers. DeSantis Breindel works with its clients at critical inflection points to engage customers, influence prospects, rally employees, and inspire investors.
They recognize that B2B brands must appeal to a diverse range of audiences across the C-suite, from marketing and HR to finance and IT. They must be versatile enough to work effectively through different channels at different points in what is often a long and complicated buying process. And they must resonate on both an emotional and cognitive level to forge the deep connections vital to all successful B2B businesses.
---
16.River + Wolf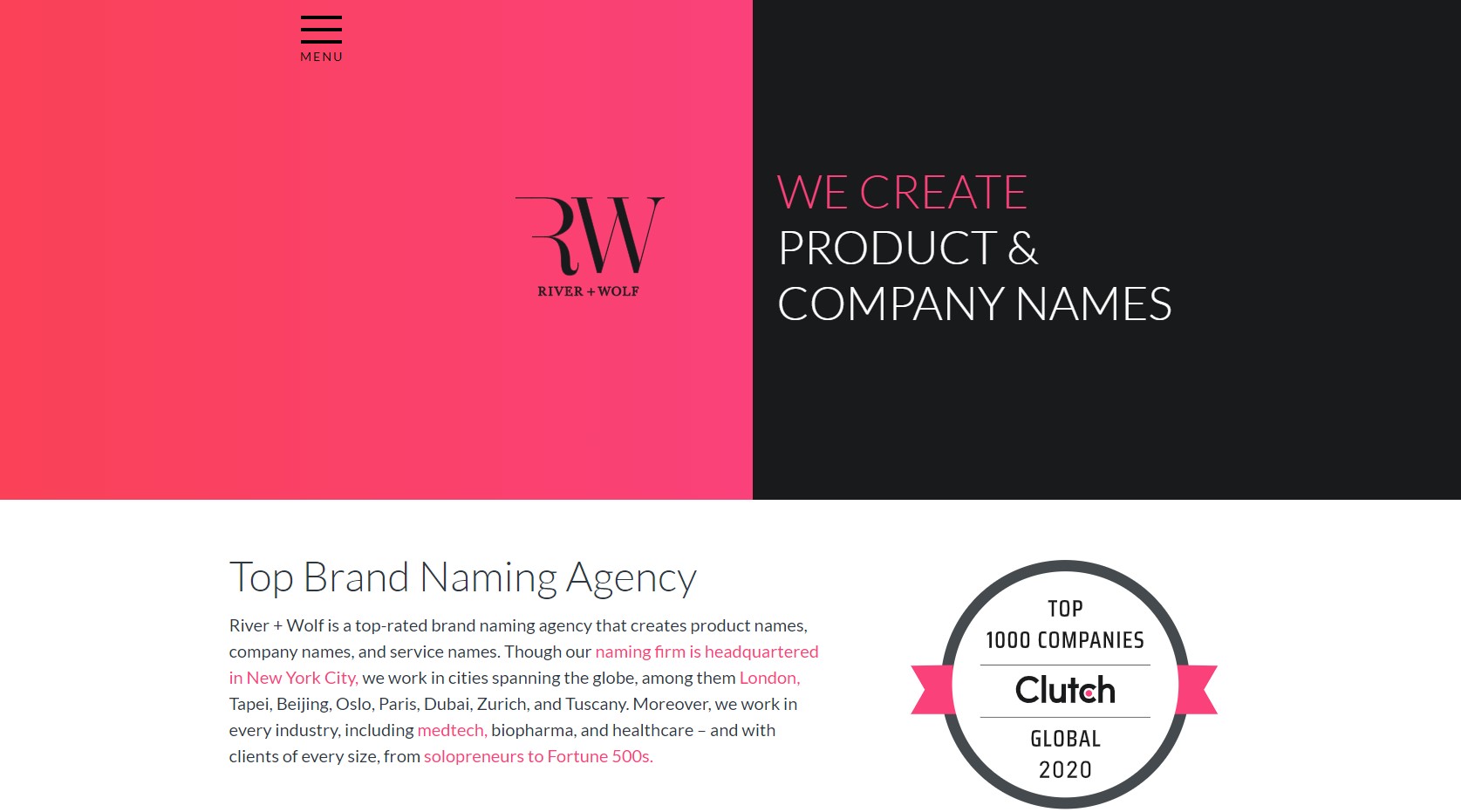 River + Wolf is a top-rated brand naming agency that creates product names, company names, and service names. Although headquartered in New York City, they operate globally, including London, Taipei, Beijing, Oslo, Paris, Dubai, Zurich, and Tuscany. They work in every industry, including MedTech, biopharma, and healthcare, and have clients of every size, from solopreneurs to Fortune 500s.
River + Wolf specializes in all kinds of naming, from product naming, business naming, app naming, along with service, ingredient, and initiative naming. Their clients include Calvin Klein (cosmetics naming), Frank Recruitment Group (company naming), Allsteel (office furniture naming), Coca-Cola (water product naming), Bayer (pet microchip naming), Craftsman (power tool naming), Dove (skincare naming), Dole (condiment naming) and Hershey's (chocolate product naming).
---
17.NameStormers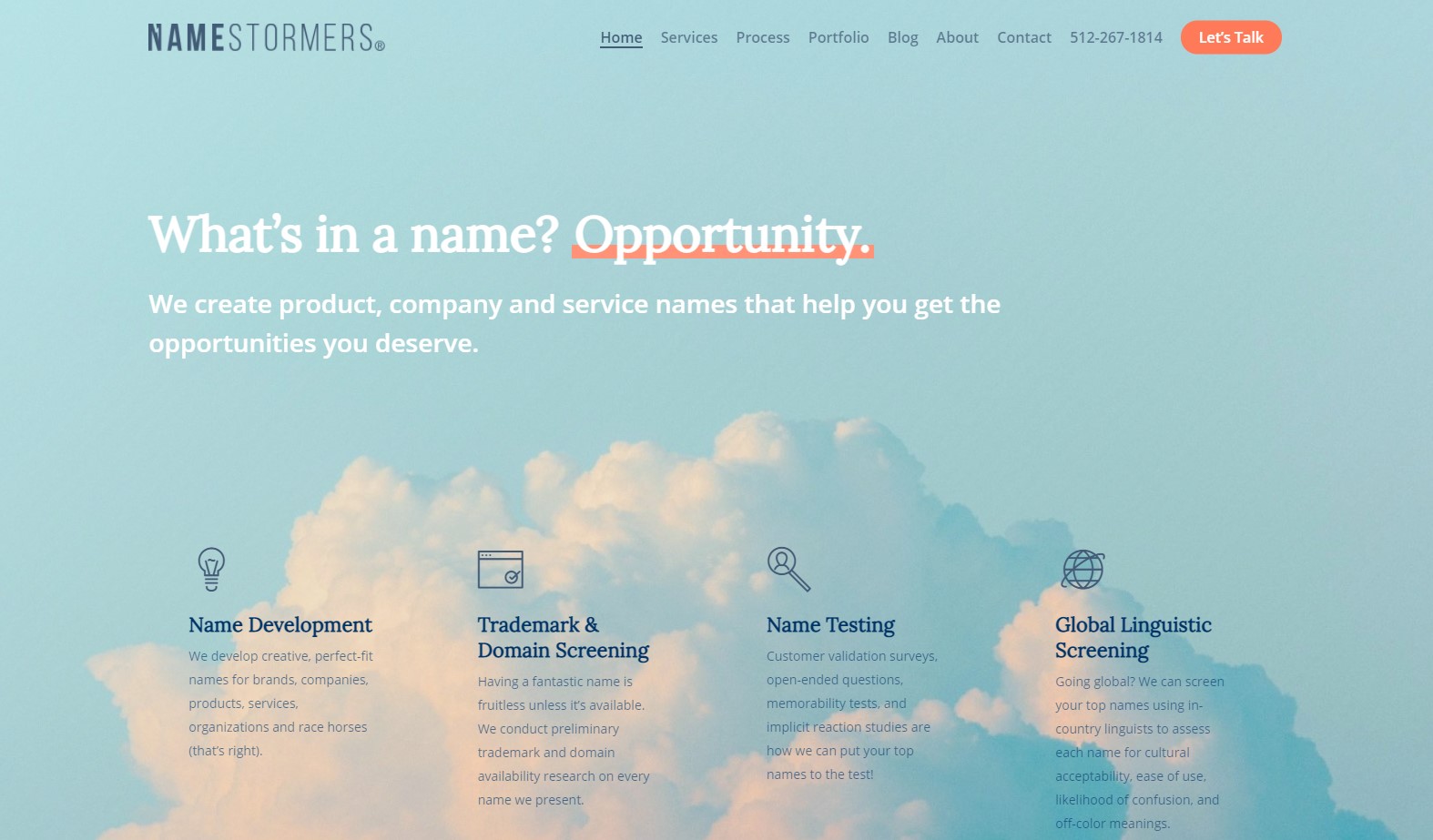 As its own name indicates, NameStormers is a branding agency that focuses on offering brand naming services. It names brands, companies, products, and services. Indeed, it has created names for start-ups, rebrands, holding companies, mergers, spin-offs, and even "mom and pops." It claims to have named everything from no artificial ingredient snacks to artificial intelligence technology.
NameStormers also conducts trademark, domain, and linguistic screening. It makes sure that all names you may consider are legally available. And it also ensures that if you create a new trademark, you can find a suitable domain to go with it. 
You have to ensure that your brands don't accidentally offend potential customers in foreign markets in this global age. NameStormers carries out linguistic screening to ensure you avoid offensive, hard to say, or culturally irrelevant names.
---
18.Lexicon Branding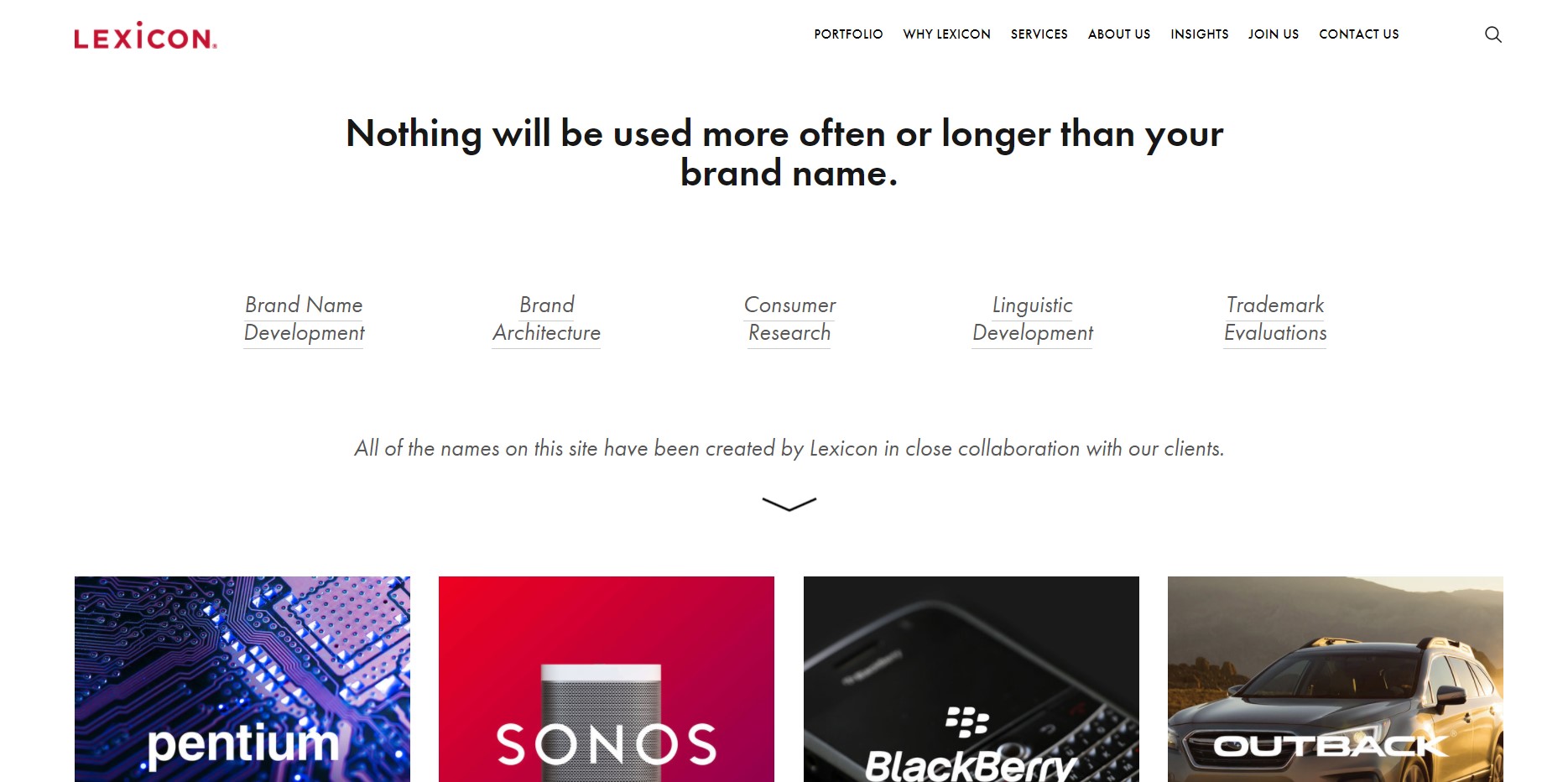 Lexicon Branding has operated since 1982 to create original and effective branding solutions. Their primary focus is on creating brand names that help companies establish new products and services efficiently and effectively. To achieve this, they develop names that are original, distinctive, and noteworthy. The agency's main office is in Sausalito, California, and they have a European office in Amsterdam.
To date, they have successfully completed more than 3,900 assignments in 20 countries. Their process for creating names involves the combination of small creative teams with structural linguistics. They claim to have pioneered the integration of linguists and linguistic knowledge into naming and have invested heavily in developing software that facilitates both creative depth and breadth. 
Lexicon also works in Asia. In 1995, they launched their "Asian Initiative" to better understand the region's brands, languages, and cultures. Their latest research package leverages their network of Asian linguists to ensure that a potential name not only works in every market but represents a strategic communication tool.
---
19.Igor Naming Agency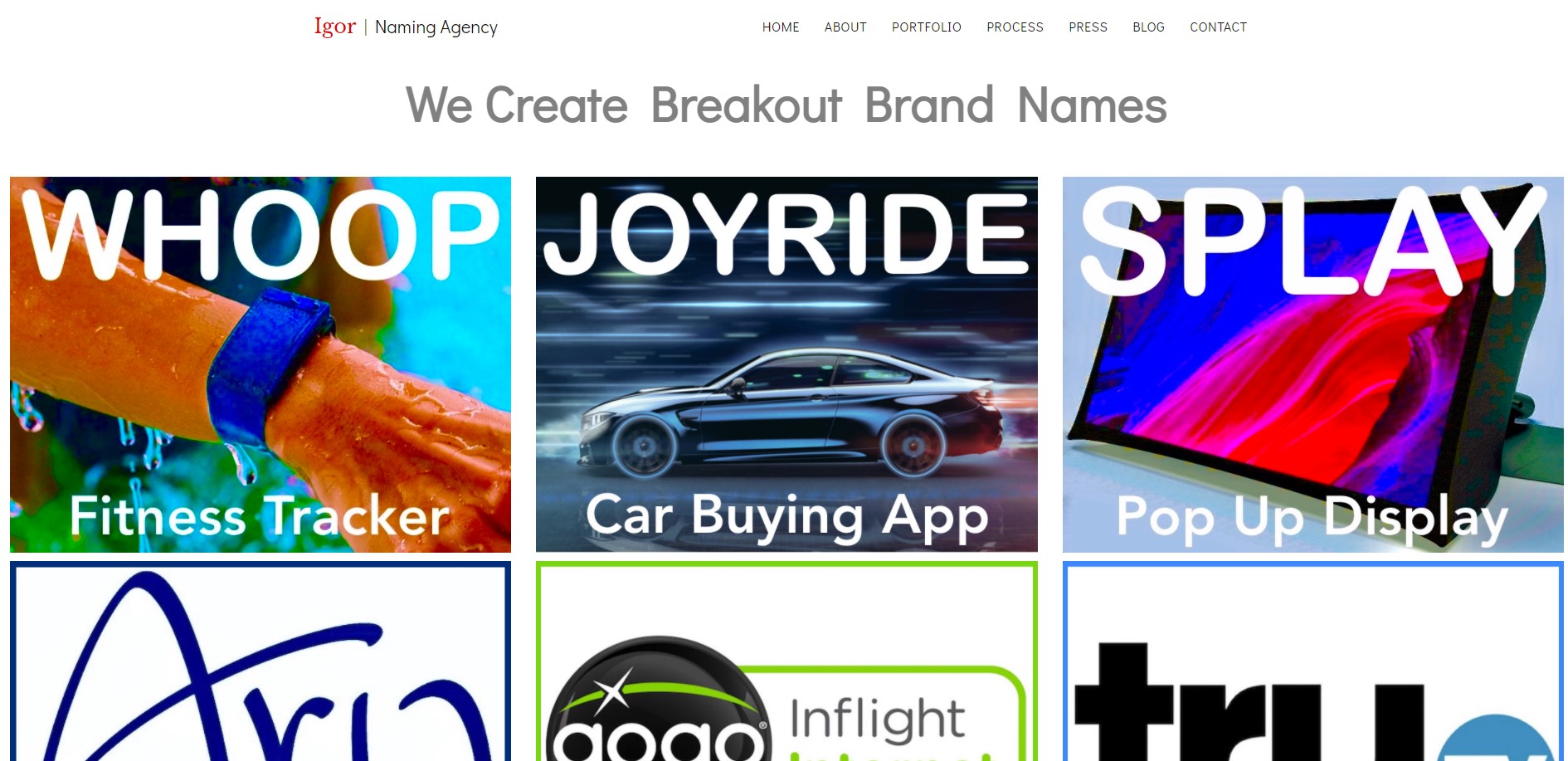 Igor creates breakout brand names for companies of all sizes. The agency came into existence in 2002 and still operates from Sausalito, California. 
Igor goes through a distinct process when creating names for its clients:
Brand positioning

Competitive analysis 

Name development

Trademark screening
Their clients include Gogo inflight internet, Whoop fitness tracker, Megagon artificial intelligence, Hair Brain hairstyling app, Navel yoga wear, Health IQ life insurance, Firefly legal services, Zounds hearing aids, and Dragon Tag B2B software.
---
20.Tanj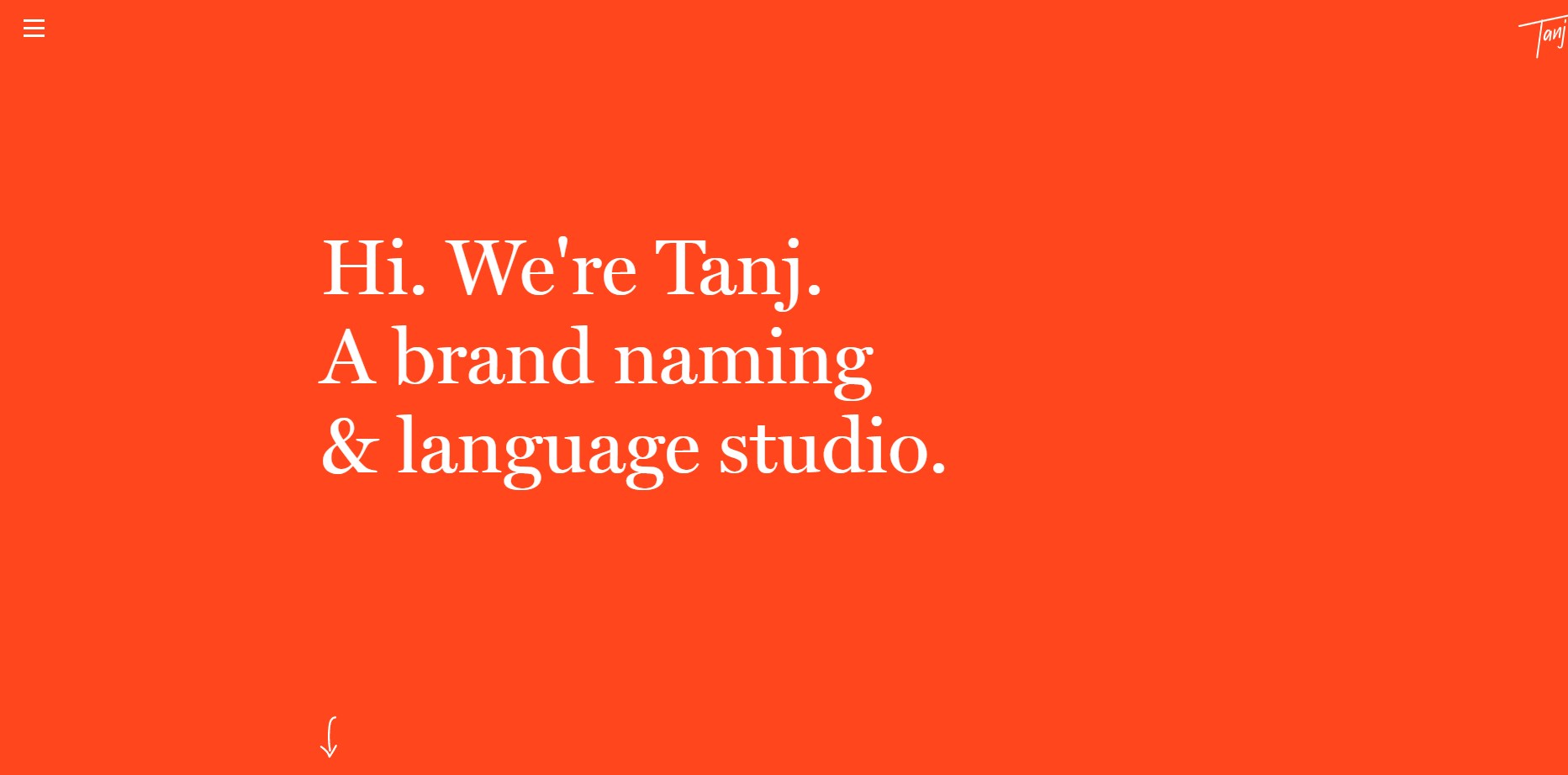 Tanj is an NYC-based brand naming and language studio. They believe that words empower people and propel brands to achieve great things. Their mission is to help businesses and organizations have a positive, meaningful impact on the world, one word at a time.
They split their services into brand naming, brand language, and data & research. 
Tanj sees brand naming as crafting the perfect moniker to help you rise above the fray, jump into your audience's head and steer clear of thorny trademark, URL, search, and linguistic issues. In comparison, brand language is all about telling your brand purpose and story, brand message, and voice.
The agency can even claim credit for the name of the Nintendo Wii. Some of the other names they have created for clients include TCM's The Plot Thickens, Humanly, Natural Bliss, Ally, NFL OnePass, Bravia, and Upswell.
---
21.Daake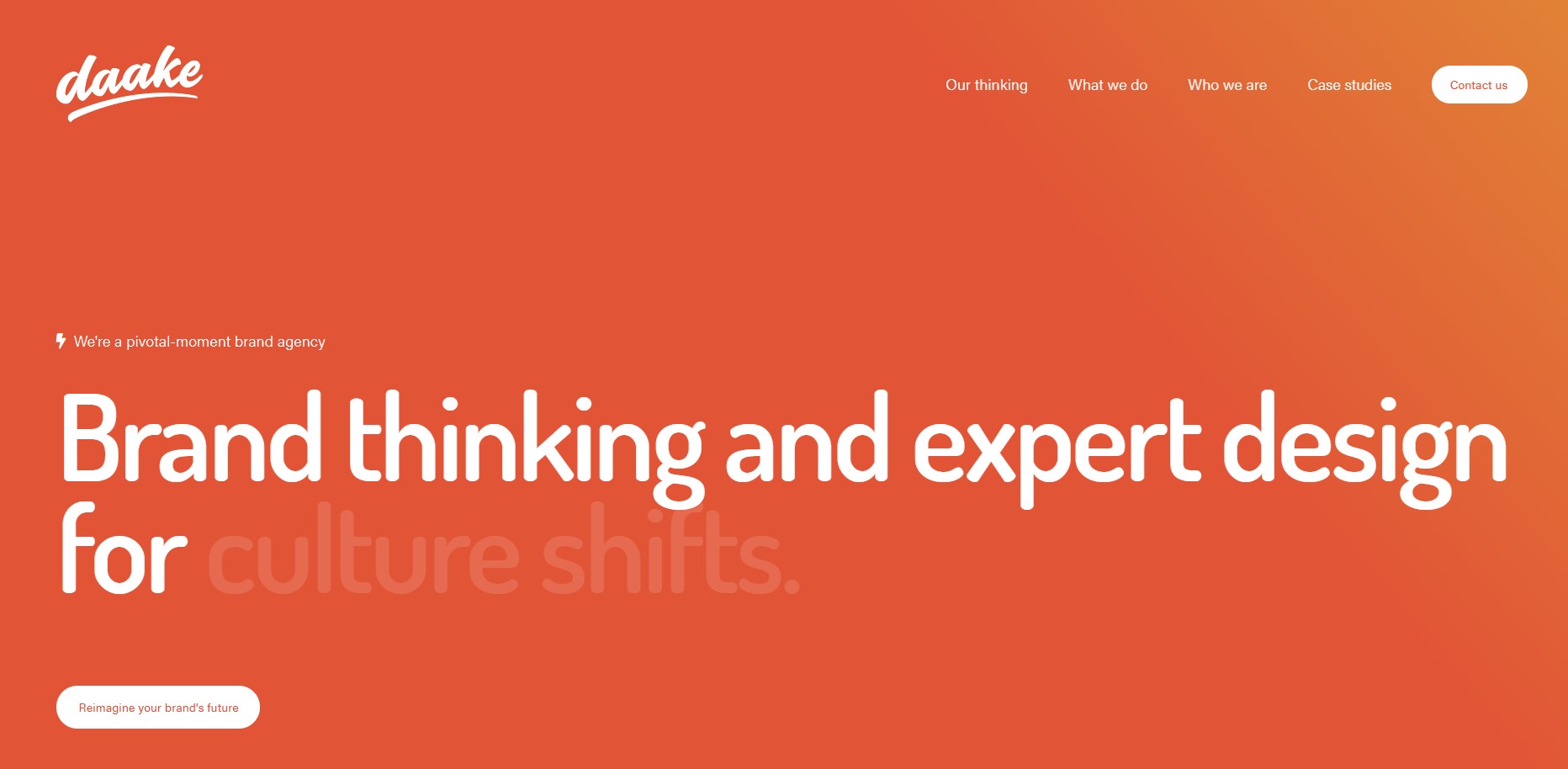 Daake describes itself as a pivotal-moment brand agency. Their brand strategists, writers, and designers help ambitious leaders transform "what is" to "what could be." They are a tight-knit team of creative people assisting brands in evolving and thriving.
By referring to "pivotal moments," Daake sees themselves as partnering with firms going through structural change, strategic repositioning, or wishing to increase their branding functionality.
Their work includes brand strategy, where they conduct research and clarify strategy. They follow this with brand design, which involves designing an identity, designing experiences, and designing a culture. When it comes time for brand change, they enthusiastically realize the transformation, managing assets, changing an existing brand identity, and launching a new brand identity.
---
22.Zinzin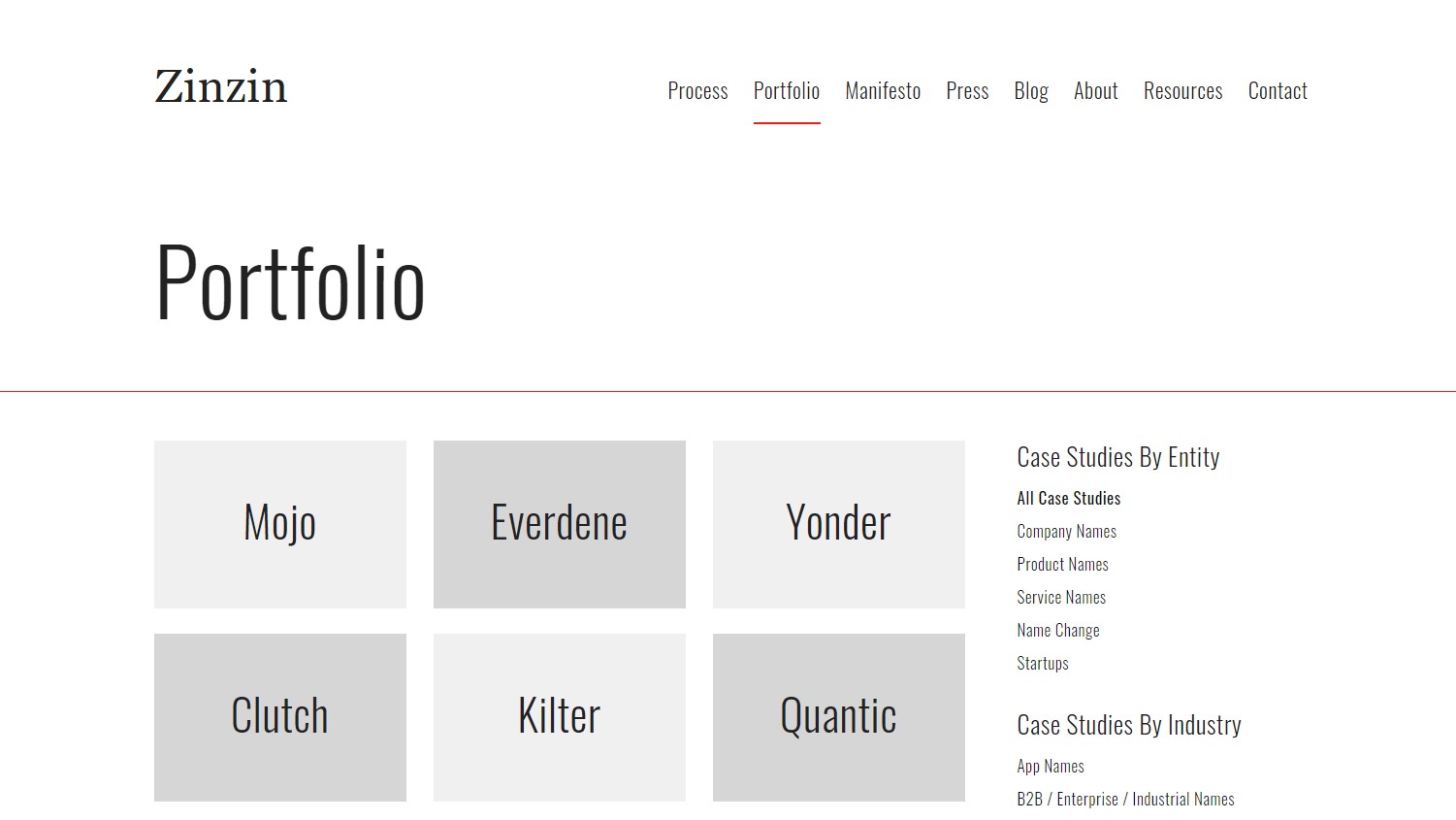 Zinzin is a naming agency. They create company, product, and service names for established firms, "next new things," and breakout brands. 
Zinzin strongly believes that having a powerful brand name is one of the most important decisions a business will ever make. However, they also think that they are NOT naming the company or product. Instead, they are naming the positioning of the company and product, the unique tone, personality, ideas, and the story the company wishes its brand will express to the world.
Amongst the businesses who have asked Zinzin for help naming their companies, products, or services are Mojo, Yonder, Clutch, Quantic, Alloy, Ember, Rubicon, and Mosaic.
---
23.MonogramGroup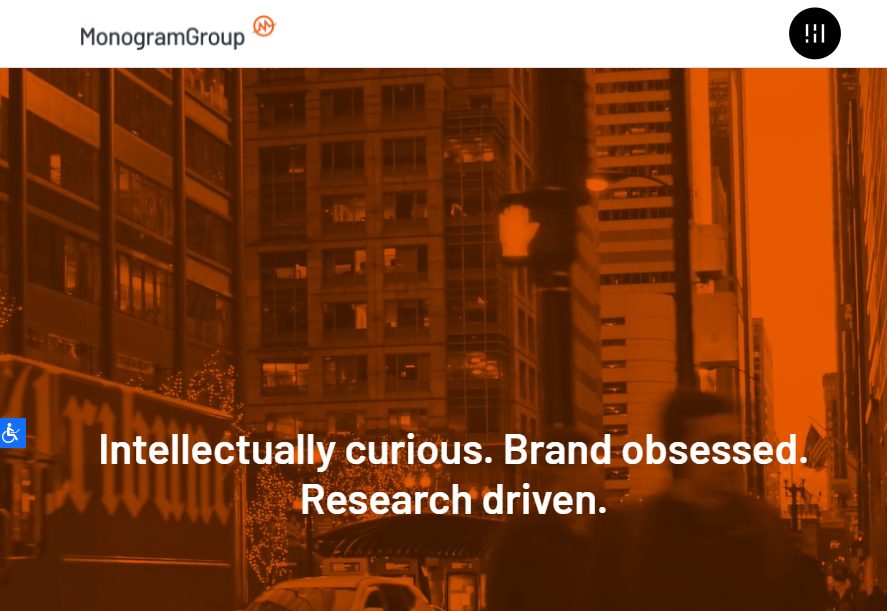 Monogram Group has been behind some of the most captivating branding initiatives in the last decade. This Chicago, Illinois, and Davidson, North Carolina based branding agency's approach is versatile enough to work with and deliver strong and effective positioning for middle-market industrial, global, local, and international consumer brands. 
This is all backed by a single and unrelenting curiosity. Monogram Group's ability to dig deep and ask questions that extract the essence of what brands mean to customers is unrivalled. Beyond branding and rebranding services, you'll be in good hands with their Creative/Go-to-Market suite. It offers back-end development, copywriting, brand photography, digital and print collateral, email campaigns, and much, much, more. 
---
24.BrandTuitive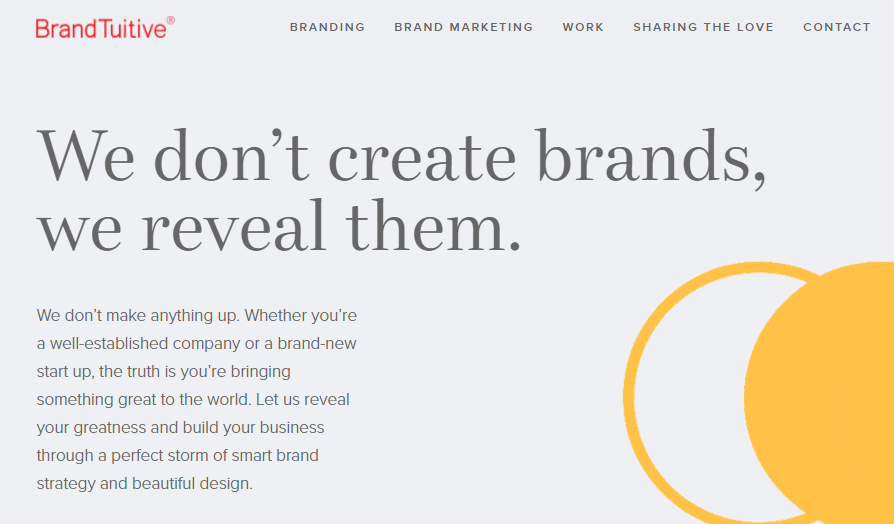 Branding agencies are faced with the challenge of standing out in crowded markets. And this applies to positioning themselves, too. But with a slogan like, "We don't create brands, we reveal them", it's easy to see why BrandTuitive made our list. 
The firm has been around since 2010, and offes brand strategy and positioning, marketing, advertising, website design, and a host of complementary services. They've also worked with a variety of companies from various verticals. From Nestle's Nespresso to helping Horizen rebrand to become a more prominent blockchain brand, BrandTuitive clearly has the talent and skills to deliver on-point branding. The firm is situated in New York, New York.
---
25.FlowState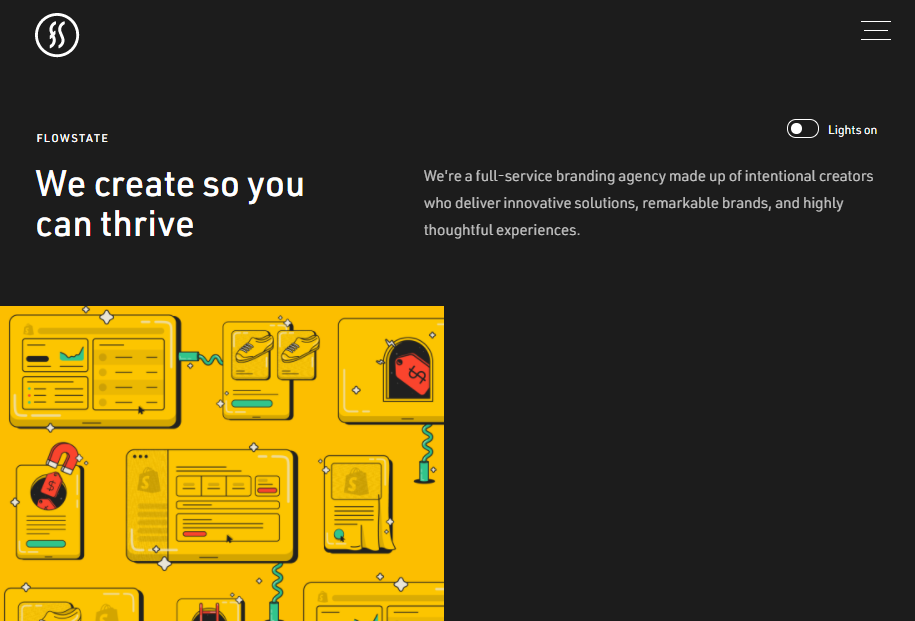 Flowstate is a full-service branding agency based out of Denver, Colorado. Founded in 2016, it's home to a talented team behind branding projects for cold brew beverage Nurange, social  experience app Grip, well-known restaurant Egg Estates, and more. There's a major focus on efficiency and value about this agency. They also exercise collaboration and unbridled creativity for each product, because no two clients or their needs are the same. 
FlowState also offers web and interactive services. This includes copywriting and SEO, eCommerce solutions, content strategy, UI and UX design, motion and video, photography, and more operational based services like CRM and CMS integrations and web hosting. And just when you think FlowState's value stops there, you'll be surprised to know that you can hire the firm to deliver prototypes of merchandise. 
---
26.Manifesto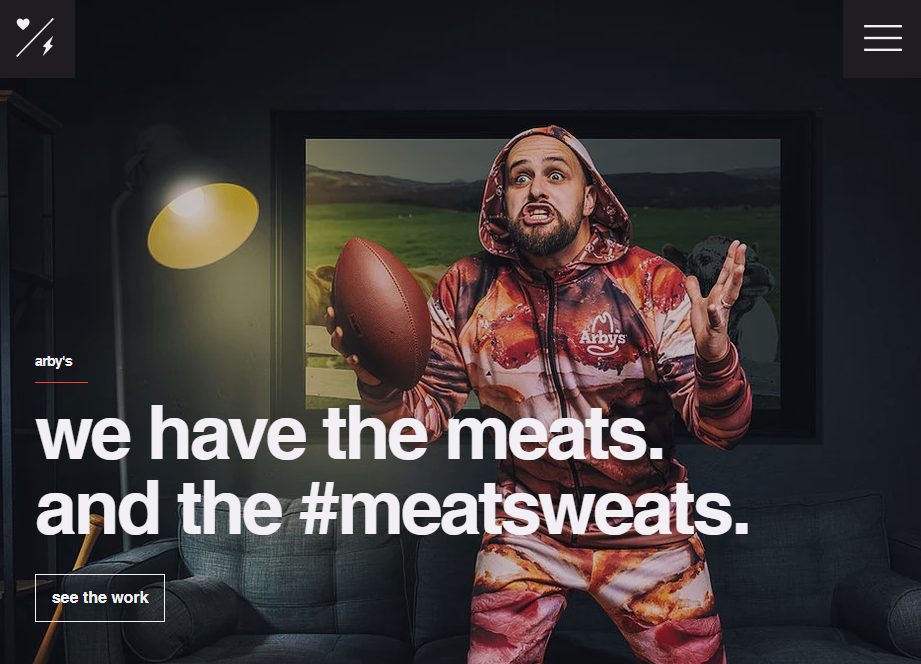 Branding is all about identity. It's about identity for your organization and one that customers can and want to associate with. Manifesto's approach to branding is about helping its customers peel back layers to find their brand truths. The firm also believes that every brand must have a set of beliefs that can be transformed into powerful storytelling platforms. 
They help deliver the kinds of brand connections that inspire closeness. Take Paylocity and the hidden electric internal culture that its customers had little to no idea of. Today, that's all changed. Through a rebrand and the development of a new tagline, promise (to its employees, customers, and industry), Paylocity is now known as the human-centric forward-thinking payroll provider. 
Manifesto's capabilities extend to integrated campaigns, and brand activations, both critical for driving awareness and traction. You can get anything from employee engagement campaigns and media strategy and planning to social and digital content, experiential concepts, and brand anthem videos all under one roof. Manifesto has offices in Portland, Oregon and Milwaukee, Wisconsin.
---
27.C42D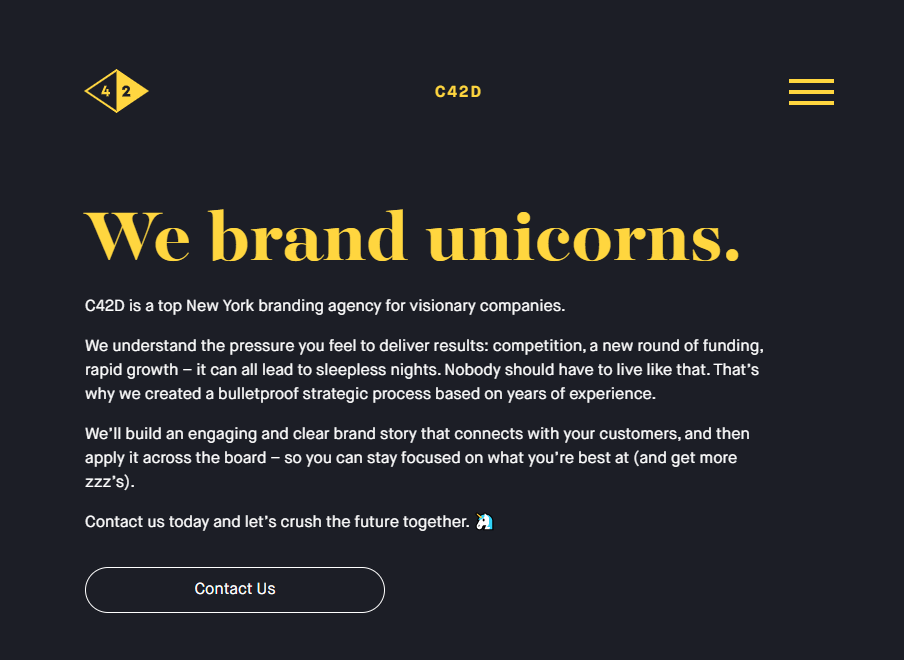 Carving out a niche in any industry is smart business. And when you see branding agencies do the same, you know that they have something truly unique to offer their clients and the world. At C42D, their flavor is of the unicorn variety. This branding agency helps visionary companies position themselves for meteoric success. From gearing up for a new round of funding to rapid growth phases, and everything in between, C42D doesn't just understand these critical growth stages, but also knows how to deliver what future unicorns need for market dominance. 
C42D has fuelled brands in industries like real estate, cosmetics retailers, B2B software, urban planning and architecture, and more. The firm is able to help you with discovery and brand audits, brand strategy and identity, and digital design. C42D is located in New York, New York.
---
28.Cultivate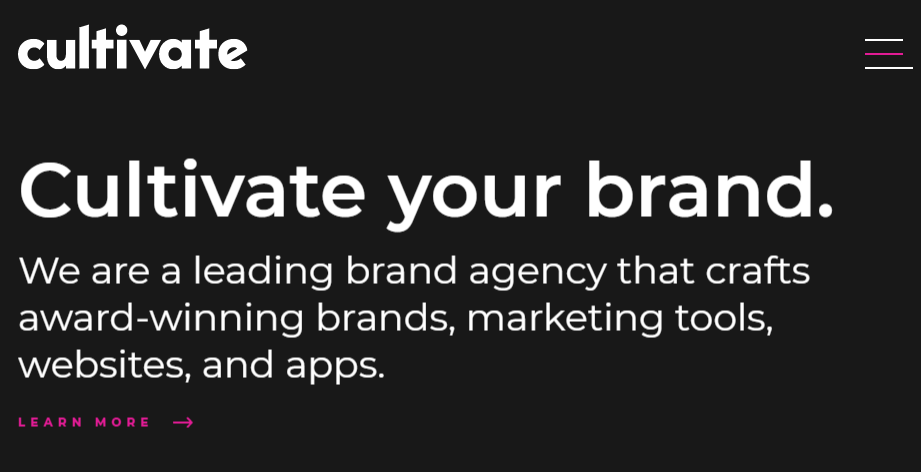 Cultivate has been around since 2005, proving true staying power that's only possible if you really know what you're doing as an agency. In its time, Cultivate has empowered brands across industries to deliver clear, customer-centric moments through smart branding experiences. From carry bags and building material to family-owned businesses, to craft foods and behavioral therapy software, they've successfully dabbled in enough to prove their chops. And for its efforts, Cultivate has been recognised. In 2021, the firm was awarded Clutch's Top Branding Agencies Award. 
Cultivate offers brand strategy and design, website design and development, app design and development, photography, video content production, and creative marketing. The agency is located in Chicago.
---
29.Anchour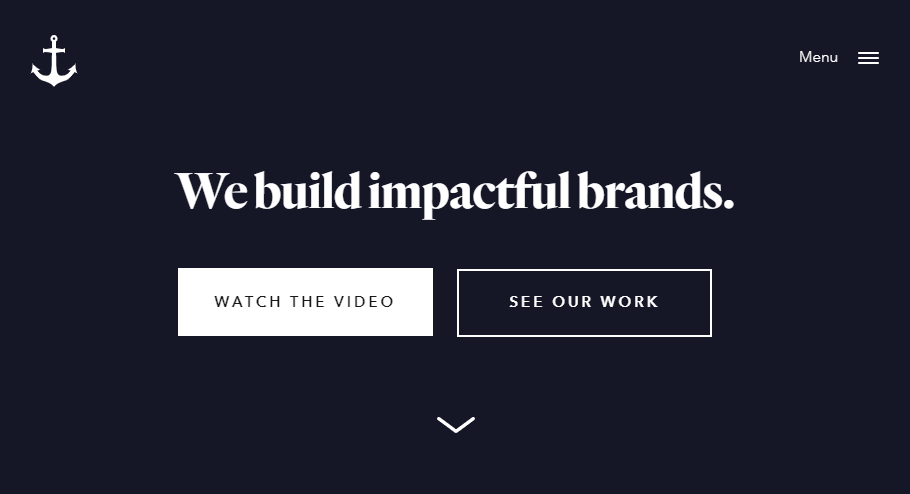 Anchour is all about helping brands deliver the right lasting impressions with their customers. And today, that matters a great deal. It's easy to get drowned out online, and harder to stay relevant with rapid market shifts. For Anchour, achieving brand stickiness is a passion and one they've had the opportunity to live with brands in the restaurant, infant product, craft food, and other markets. Anchour's also worked with large multinational brands like Apple Computers, Sappi, and Bosch. 
This firm is a smart choice for brands looking to nail their unique look and feel. The firm offers brand strategy, design and identity, website development, digital marketing, video and photography, and content development. Anchour is based in Lewiston, Maine.
---
30.Finien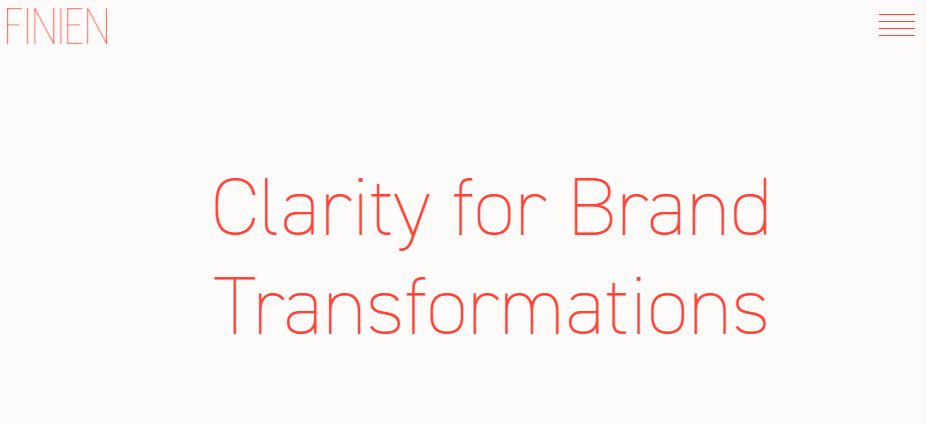 Finien is one of the more unique brand agencies to make our list. Founded by Fabian Geyhalter, Finien is about swift and focused brand development. This is the result of a dissatisfaction that Geyrhalter experienced with the status quo of agency work. He didn't just sit back, he decided to close shop, write a book on how to launch a brand, and then set up to relaunch his agency. 
The outcome? A more collaborative and trust-based relationship formed with CMOs and founders to deliver powerful brands. Finien's been the go-to choice of titans as well. It has worked with Warner Brothers, Honeywell, and Marriott. And as attractive as working with this agency may seem, they have a set criteria for the types of brands they help. Yours must be US or European-basd, generate $5 million in revenue or more, and be in the process of a brand transformation. Finien is based in Long Beach, California.
---
31.AtticSalt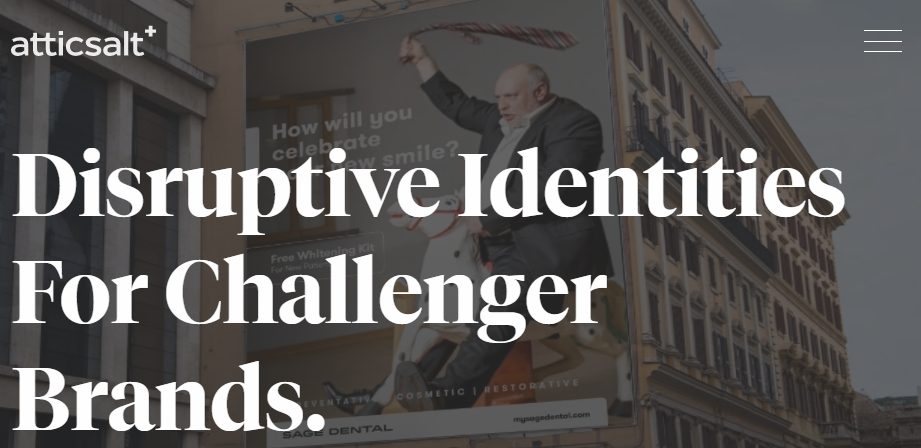 Atticsalt is headquartered in Scottsdale, Arizona. The firm offers brand identity, naming, campaigns, and web services. As a branding studio, it's helped all kinds of organizations find their positioning, brand voice, and used powerful concepts that have delivered the right experience for audiences. 
Atticsalt's discover, define, design, and deploy approach makes for a simplified experience that would otherwise keep many a CMO or founder up at night, trying to figure out which direction to take their brand. This process has served brands in the architecture, sports medicine, and education sectors, to name a few. If you're after a human-based brand identity powered by research and a tried and tested process, add this firm to your shortlist.
---
32.Niftic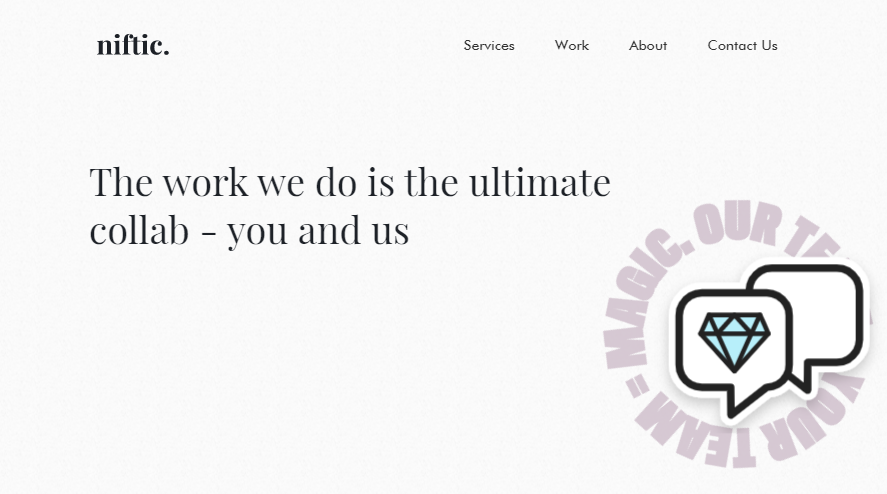 It's not common to hear of brands shouting their mission from the rooftops. And while that may seem like an almost odd observation, it makes you wonder what they really stand for and what value they bring to the world. Niftic is on a mission to help mission-focused companies become customer magnets. Through strategic design, data, and engineering, this agency will help you not only boost your bottom line, but do so with a cohesive brand-audience identity. 
Other services offered include UI and UX design, and conversion rate optimization. Niftic has worked with large and well-known brands. These include the Olympic Channel, National Geographic, The North Face, Snapchat, Red Bull, and even car manufacturer Lexus. Niftic has offices in Washington, DC, Salt Lake City, and Los Angeles.
---
Conclusion
Your brand needs to be a living, breathing entity. It should evoke emotions and stir up feelings. A wobbly branding strategy can give mixed signals to audiences and confuse them. This can be disastrous for influencers who are valued for their credibility and authenticity. A branding agency can smoothen out the kinks in your brand architecture. They identify your natural appeal and harmonise your messaging, tone, and content. They can also promote and manage your newly-positioned brand so that you don't lose direction. 
Frequently Asked Questions
Who are the top branding agencies?
As we have seen in this article, branding agencies can help new brands create a distinctive presence in an overcrowded marketplace. They help existing brands reposition themselves to remain relevant when new trends and consumer preferences emerge. We evaluated them on several parameters, such as services offered and price structure. The top branding agencies we have examined are:
BrandTuitive
RUCKUS
Motto
Traina Design
Tenet Partners
BLVR
Mucho
Deksia
Matchstic
Venthio
What is a branding expert?
Branding is the process of creating a unique name and image for a product in the consumers' minds. It aims to establish a clear difference in consumers' eyes between a brand and its competitors. Branding generally involves using a consistent look and feel through all types of marketing. Branding experts are specialists who know how to implement a consistent branding campaign for a company and/or its products. The branding agencies that we have examined in this article employ branding experts to help their clients.
Why is branding so important?
A brand can encompass the entire customer experience. It involves virtually every interaction with your business, from anywhere you use your logo, to the way you answer your phone. Your brand is the way a customer or, indeed, any stakeholder perceives you. It is what sets you apart from the competition. Your brand is what promotes recognition – the more you build your brand recognition, the more comfortable people are to shop with you.
What does a branding consultant do?
Most of the branding agencies that we look at in this article employ branding consultants. They analyze an existing brand and examine how it competes with others in its sector. They do this from a marketing standpoint – how do this firm's overall branding and related marketing compare to its competitors? Brand consultants often liaise with brand managers and marketing executives and use their marketing expertise to help their clients sell their products and attain their business goals and objectives.
What are the 4 steps of branding?
Any of the branding agencies examined in this post will take a series of steps when examining your branding. Four essential steps of brand development are:
Know your business – what does the company stand for?
Know your audience – who are your customers? How do you meet their needs compared to your competitors?
Create your resources – all the branding assets needed to meet your goals
Manage your brand growth – measure your progress over time